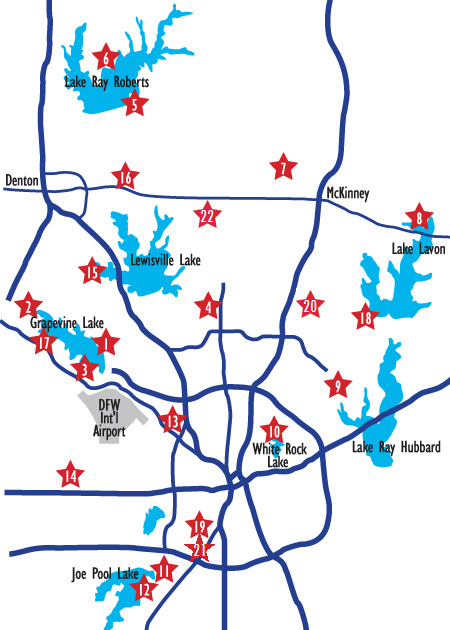 Dallas & surrounding area trails
1. Northshore Trail – Located on the north shore (of course) of Grapevine Lake, the Northshore Trail is the favorite training trail of many Dallas/Fort Worth trail runners. From the trailhead at Rockledge Park to the Twin Coves Park entrance, the trail is approximately 9 miles long. There are water fountains at each end of the trail and at Murrell Park, which is at about mid-distance.  The entire distance is 22.5 miles broken up into two major loops: East Loops, 1 – 4, which are 12.5 miles and the West Loops, 5 – 7.  The trail has lots of rocks and roots and lots of ups and downs, but no steep climbs. Northshore Trail is also a favorite of mountain bikers and hikers, but no horses allowed.
The general consensus is that the in-going gate at Murrell Park closes at 10:00 PM, but that there is a call box for Little Pete's and they will buzz you in until 1:00 AM. The out-going gate is automatic.
The daily entrance fee to Rockledge or Meadowmere Park is $3, Monday through Thursday per vehicle and $5 on Friday, Saturday and Sunday. Grapevine residents, seniors, physically challenged individuals and active military may obtain an annual pass to access Rockledge Park, Meadowmere Park, and the City's nine boat ramps for $35. A Non-Grapevine resident annual pass is $75. Passes may be obtained at both parks and The Vineyards Campground & Cabins.
2. Knob Hills – Another DORBA trail, but not nearly as busy as the nearby Northshore Trail. 5 miles long, but linking to horse trails, giving 7-8 miles of out and back. Mixture of flat and open, shaded and a few small climbs. Few loops and areas you could get turned around. No water available at or on trail. Free.
Trailheads:
Hwy 377 Trailhead: Located near intersection of Hwy 377 and FM 1171 in Flower Mound:
From Dallas: Take Hwy 114 West, past DFW airport and through Grapevine, to Roanoke. Go north on Hwy 377. Go about 2.5 miles, and the dirt parking lot will be on the right immediately after the second bridge crossing.
From I-35 West/Ft. Worth: Take I-35 West north to Denton. Exit FM 1171, and go east. Go south on Hwy 377. Go about .7 miles, and the dirt parking lot will be on the left before you cross over the creek.
From I-35 East/Lewisville: Exit FM 1171 in Lewisville, then go west until 1171 intersects Hwy 377. Go south on Hwy 377. Go about .7 miles, and the dirt parking lot will be on the left before you cross over the creek.
Dunham Road Trail Head:
Follow directions above to the intersection of FM 1171 and Hwy 377 (approx .7 miles north of the dirt parking lot on Hwy 377). On the southeast corner of the intersection, look for Dunham Road. Take Dunham Road south, and follow the road until you reach an intersection. Go straight onto the dirt road. This dirt road will dead end into the parking area. At the trailhead, take the path that goes straight down the hill. It will dead end into the actual mountain bike trail. You may turn right or left at this juncture.
3. Horseshoe Trail – For an easy, enjoyable short run, Horseshoe Trail is a good choice. Located on the south side of Lake Grapevine, the trail winds its way through woods near the lake for about 3 miles. Relatively flat and smooth, there is still enough change of terrain to make the trail interesting. Located in the town of Grapevine in Oak Grove Park, just off Dove Road.
4. Arbor Hills Nature Preserve – The Arbor Hills Nature Preserve offers a 2.5 mile designed off road bike trail. The trail is easy but has a number of switchbacks. The trailhead for the bike trail is off the concreate path wich parallels Parker Road. There are some additional trails which are under development. These trails are off the concrete path just north and west of the bike trailhead. These trails offer several steep hills.
The Arbor Hills Preserve is in Northwest Plano. From Dallas take the Dallas North Tollway to the Parker Road exit. Then take a left (west) onto Parker Road. Follow Parker Road past the Midway stoplight. The Arbor Hills entrance is just west of the Fire Station.
5. Isle Du Bois State Park – Bike trails, horse trails, and concrete park trail, plus great swimming beaches and play areas for children. The horse trails are flatter and more open. About 8 miles each way, out and back. No water apart from at trailhead. The bike trails are still being developed by DORBA. Currently 4 linked loops giving about 9.5 miles of twisty and hilly trails in the trees. Water is available at the top of loop A, less than 1 mile from trailhead, so you still need to carry lots.
This 'trail system' also interconnects with the Lake Ray Roberts/Lake Lewisville Greenbelt Corridor and holds a lot of potential for really long runs with limited water that don't repeat the same ground. Small charge or get a State Park Pass.
6. Johnson Branch State Park – Newer mountain bike trails, sheltered and fairly undulating. 8.8 miles made of a series of connecting loops that can easily be cut shorter. Very pretty. Water only available at trailhead. Another one with really nice family facilities; beach, concrete trails, play areas. Small charge or get a State Park Pass.
7. Erwin Park – This trail is located near McKinney. The trail is approx 10 miles long and varies from tight and twisty turns through the woods to long straightaways in open grassland. Directions are from the intersection of US 75 and HW 380 in McKinney. Go west on HW 380 for about 2.5 miles to State Road 1461. Take a right (north) and go 2.1 miles toward Rhea Mills. Turn right at the Erwin Park sign onto CR 162. This is a short road which turns right onto CR 164. Proceed about .9 miles and turn left onto CR 1006, then proceed another .4 miles to the entrance to the park. Stay left at the first fork in the road after entering the park, then look for the parking area near the pavilion.
8. Sister Grove Park – Close to 6 miles of single track trail consisting of two loops forming a figure eight. The trail is fairly flat with a few rolling hills. From Dallas, go North on US-75 to McKinney, then head east on US-380. At the Lake Lavon bridge, take a left on CR-559, which is also a bridge. Turn left on CR-56, another left on CR-562, and Sister Grove Park will be on the left (south) side of the road.
9. Rowlett Creek Preserve – Single track trail with 11 loops totaling approximately 13 miles. The trail is mostly flat with a few rolling hills. This is a nice trail when it's not muddy, and in the summer, a pretty large portion of it is covered in shade. Located in Garland, the trailhead/parking lot is located at Centerville Road and Castle (just south of 190).
10. White Rock Lake – The Lake is East of US75. From West, North or South take Mockingbird Lane East from US75. Just before Buckner Blvd make a sharp right turn, right after crossing the bridge (there will be a sign), go down the hill till it dead ends. Go left (watch for runners and cyclists), past the sail boats till you see a cabin on the left that says Big Thicket. They have rest room facilities and a water fountain. You can follow the yellow line all the way around the lake on an asphalt trail, or on the side in the dirt/grass. Water fountains are placed all the way around. Do watch for cyclists–they ride fast and some are not runner friendly. The loop is slightly over nine miles. Many NTTR members run from the Big Thicket every Sunday morning starting at 6-7am, depending on the season and the distance to be run. They run anywhere from 9 to 20 miles. The longer loops go into the surrounding neighborhoods, and a bottle is necessary. There are some good climbs on the longer loops.
If coming from the South or Northeast, you can take Highway 78 (it's called East Grand from the south and intersects I-30; and Garland Road from the NE intersects I-635) until it intersects Buckner Blvd. Turn left from E. Grand, or turn right from Garland Rd. on to Buckner.
11. Cedar Ridge Preserve (formerly known as the Dallas Nature Center) – Located in Duncanville, south of I-20 off Mountain Creek Parkway, these trails offer challenging hills and beautiful senery. There are seven individual hiking trails that total around 8.5 miles along with a .25 mile wheelchair-accessible trail. No bikes are allowed, however, it is a popular spot with families and scouts, so watch for kids on trail. Ne fee to enter but donations are accepted.
12. Cedar Hill State Park – In Grand Prairie, south of I-20, this scenic park offers well maintained trails and rolling hills. Built and maintained by Dorba, the trails are frequented by mountain bikers. (Riders go one way on the train; pedestrians go the other.) The trail loops in 3.5, 7.5, and 10.5 mile distances. Day use fee is $3 per person, or a Texas Conservation Passport at $50 per year admits a carload.
13. L.B. Houston – Approximately 7.5 miles of flat twisty single track trail. Avoid for several days after a hard rainfall, as this trail is very slow to dry. Trailhead is located on California Crossing about a quarter-mile west of Luna Rd. (south of Northwest HW).
14. River Legacy Trails – Located in Arlington, the park now consists of about 10 miles of fun dirt trails. They are mostly flat, but very wooded and curvy, and not rocky. The longest loop is on the west side, maybe 5 miles of loops and out-and-backs. Your feet never need to touch cement.
The park is open 6 AM to 10PM, and is located at the intersection of N. Cooper and Greenoaks Blvd in North Arlington. First drive to the intersection of I-30 and Cooper (which is just west of Six Flags), then go North on Cooper about 2 miles to Greenoaks. Turn west (left) on Greenoaks, and the park entrance is 100 yards on the right.
15. Pilot Knoll & Elm Fork Hiking & Equestrian Trails – Located at Lake Lewisville, these trails are multi-use hiking and equestrian trails. Both trails are slightly rolling, and mountain bikes are not allowed. The Pilot Knoll Trail is approximately 8 miles long, and the Elm Fork is currently under construction with about 6 miles of available trail to hikers and runners (only 2 miles are currently available for equestrian use).
16. Ray Roberts Lake/Lake Lewisville Greenbelt Corridor – Approximately 11 miles in length, this multi-use trail begins at the Ray Roberts dam and ends at the headwaters of Lake Lewisville. The trail system is open to hikers, runners, bikers, and horses, and river access for canoes and kayaks is also available.
17. Walnut Grove Trail – This trail is located on the southwest portion of Grapevine Lake. There are up to 10 miles of trail available by combining loops, and the the trail is divided into an upper woodland trail and lower shoreline trail. In addition to Corps of Engineers access points, the City of Southlake has a trail access at Harbor Court, off Burney Lane.
Trailheads:
White Chapel Road Trailhead: From Hwy 114 take the White Chapel Blvd. exit. Head north on White Chapel Road to the end.
Bob Jones Road Trailhead: From Hwy 114 take the White Chapel Blvd. exit. Head north on White Chapel Road and turn right on Bob Jones Road (east). Follow to end.
T.W. King Road Trailhead: From Hwy 114 take the White Chapel Blvd. exit. Head north on White Chapel Road and turn left on Bob Jones Road (west). Turn right onto T.W. King Road and follow to end.
18. Trinity Trail – The Trinity Trail is a 9-mile hiking and equestrian trail that follows the southwest edge of Lake Lavon from the East Fork trailhead near the intersection of CR 384 and CR 389 to Brockdale Park. The trail traverses a variety of habitats including lake, marsh, moist woodlands, open woodlands, and prairie.
19. Oak Cliff Nature Preserve – 7.5 miles of single track trail.
Directions: From I35E take Illinois west, just past S.Hampton make a left on Pierce, go past the houses and black fence, turn left into the back of the apartment complex, make a right at the gate (dirt drive).
From loop 12/408, take Illinois East. After you pass Westmoreland, you come to Pierce. It is the first right after you cross the Dart RR. Go right.
20. Oak Point Park & Nature Preserve – 5 miles of natural surface trails; 3.5 miles of concrete recreational trails; near Jupiter Road and Spring Creek Parkway
21. Boulder Park – Located at: 6600 Pastor Bailey Dr. Dallas, TX 75237
Details: The whole trail is about 12 miles. Located north of Duncanville, at the SW corner of Hwy 67 & Red Bird Lane (about 1 mile north of the I-20 & US 67 intersection). [MAPSCO 63T] Hwy 67, Red Bird Lane, and Pastor Bailey Drive make the East, North, and West borders of Boulder Park. From 67, exit Red Bird Lane, go West about 1 mile, then South (left) on Pastor Bailey Drive. (you'll be driving around the perimeter of the park to get to the parking area) Parking is available on Pastor Bailey Drive, or on the side streets, Hallet and Calhoun, located on the West side of Pastor Bailey Drive if the parking lot is full. DO NOT park in any church parking lot. The trailhead is located at the left of the parking lot.
22. Frisco NW Community Park – Located at: 2525 Gloryview Rd, Frisco, TX 75034
Details: Total Mileage is approximately 5.8 miles. Hikers and Runners will go clockwise from the trail head and cyclists will go counter clockwise from the trail head.  It was built by volunteers from Shawnee Trail Cycling, Frisco Cycling and Dallas Off-Road Bicycle Association (DORBA) and is currently maintained by DORBA.
Directions: Teal Parkway and Little River Drive, Frisco, TX 75034. Right across the street from Sue Wilson Stafford Middle School. Look for gravel parking lot