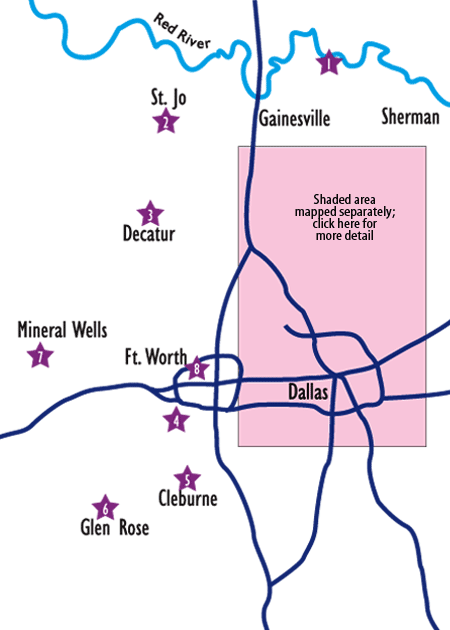 Greater North Texas Area Trails
1. Cross Timbers Trail
This hiking trail, along the shores of Lake Texoma, is commonly known as the "toughest little trail in Texas." With 12.5 miles of rugged quad-building climbs and beautiful views, the trail is a favorite winter/spring training site for ultra-runners. (Poison ivy abounds in late spring and summer.) Although Cross Timbers is a favorite trail for scouts and campers, few mountain bike riders attempt it. The trailhead is located at Juniper Point Campground, 1/2 mile south of Willis Bridge, just off Hwy 377. Runners frequently congregate at Cedar Bayou, about 10 miles north of Whitesboro on Hwy 377.
2. The Breaks at Bar-H Ranch
After 26 years the Bar-H Ranch has closed it's doors.
3. Grasslands [trail map]
Although not a new trail, it's recently discovered by NTTR. Cloverleaf 50 miles of rolling, sandy, single-track horsetrails and jeep roads through scenic Oak groves, wildflower prairie and stream crossings. Located about 70 miles northwest of DFW airport near Decatur.
4. Benbrook Lake ACE Horse and Nature Trail
Southwest Fort Worth. 6-7 miles [each way] out and back with 4 loops off to side. Great mixed trail, first 3 miles have 3 loops, mostly smooth and wide trails, open views of the lake, lots of flowers in the spring. The further end is wooded, rocky and more hilly [well undulating] with a further loop. There is PI on the second section but it is passable in the winter or with ivy block. There are seasonal water fountains near the trail, but I have never relied on them.
5. Cleburne State Park [state park website]
Two loops, one large one going around the lake about 8 miles. Rough and rocky underfoot, lots of good tough hills, mostly sheltered by trees. The inner loop is in the trees, shorter and flatter. The two loops do interconnect. Only water is at the trailhead. Small charge or get a State Park Pass.
6. Dinosaur Valley State Park [state park website]
17 or even more miles of trails. A good map is essential. Lots of hills, some open spaces and lots of trees. The trail is in two sections, the old trail is rougher and a bit of a maze. Take a map and sense of humour. The newer trail is on more open land and links in with the older trail in several places making a variety of loops possible. You need to cross the Paluxy River to access the trails, best done on some stepping stones by the Dino Foot Prints, but expect to get wet if the water is up. Water is not available on the trail. Carry lots. There is a small charge, or you can get a Texas Conservation Passport.
7. Lake Mineral Wells State Park
There is a total of 16.5 miles of trails in this state park near Mineral Wells, TX. Horseback riding, hiking, and bicycling are permitted on the main trail (9 miles); hiking trails (lake trail 5 miles) and backpacking/hiking trail (2.5 miles) do not allow horses or bikes. Note: Trails may be closed during wet weather.
8. Sansom Park [website] – contains more info, directions and trail maps
This trail consists of interconnected loops totaling 7 miles. Nice dirt single-track with some rocks through lots of trees and open meadows with views of Lake Worth. Elevation gain of 1000ft in 7 mi loop. Located on Roberts Cut Off Road southeast of the intersection of Jacksboro Highway (199) and NW Loop 820.